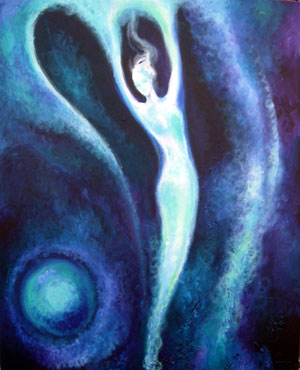 It is always good to get comments on my posts or messages on my website. Sometimes I feel disillusioned with how pictures are turning out, but then I'll get a comment or a message and I feel really encouraged to carry on. So thank you to everyone who's stopped by.
I was very pleased to be contacted yesterday by Liliana, who felt inspired to write a poem about the "Blue Woman Swirls" painting that's on my website. It's interesting to read the poem and I'm glad Liliana agreed to me posting it here along with the painting. Here it is:
extreme blues

ultramarine rain,
every now and then
piercing the layers of
French perfume
lading her shadow,
seemed to cascade
directly from the remains
of her midnightish ancestry –
grim electric
flowing through her veins,
turning moonlight into nectar
with just a sigh,
she was doomed to be forever
his chant –
his mantra.
By Liliana Negoi
Thank you Liliana!