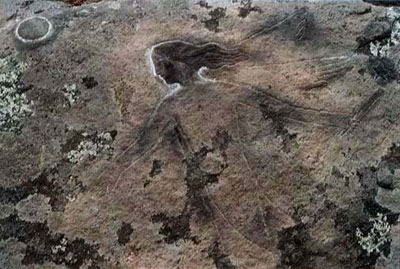 I have recently discovered the lovely work of Iranian environmental artist, Ahmad Nadalian. He carves stones with fish, other creatures and goddess-like images associated with rivers and the sea around the world. He carries out rituals of returning his carved fish rocks to rivers to raise awareness of pollution. In his words:
I was in search of my lost paradise. I wished to spend time surrounded by nature and living with nature. Upon my return to the land of my forefather I found that my paradise no longer existed. The wellspring was polluted and river no longer had fish. The rivers are sown and the meadows are planted with villas.… I have created hundreds goddesses and fish on the stones of the river and have dedicated them to nature. I wanted to build his own paradise. I liked to believe that these fish are alive, and were swimming against the tides… they are metaphors for nature and the life of living creatures who endure pain, suffering, and are destroyed by the evils of our time.

I have taken refuge in the deep ravines where I can overcome evil. There is a temple where I am at peace to worship water. I am not tired. I am determined as ever to build my paradise.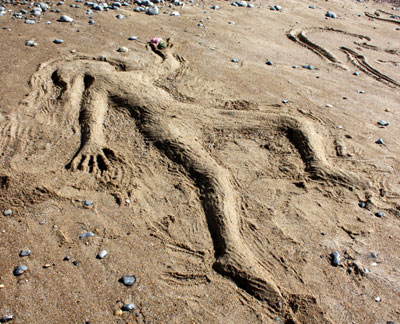 Words to ponder on. I too want a paradise, a beautiful natural place in which to dream, to take refuge. And I need to dream. Nadalian's Rock of Fairies done in France captures my imagination the most. See the photo above.
I need nature, earth, leaves, grass, rock, water. And I sense a return of my interest in goddess imagery. I wanted to find and connect with some rocks somewhere. I like the idea of creating with natural materials that are present wherever I happen to be – beneath my feet; to make a small gesture in nature that arises from and belongs to the place.
I visited the nearby Blackrock beach to look at the cliffs, the sea-sculpted chalk shore. I found myself doodling in some patches of sand,… moulding.. a Sand Goddess figure that the tide will return to the sea!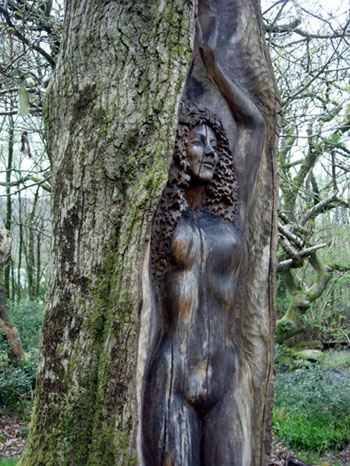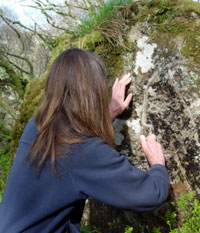 I've just had a replenishing trip to Wales staying at Cae Mabon eco-retreat. It is a place to dream, indeed, to reconnect with oneself and nature. I love the wonderful round cob buildings, the rushing river, the peace; the moss covered hillside and lichen-loaded trees; the fires each night beneath the moon shrouded in its "winter halo"…
Someone had carved a beautiful woman in a tree beside the river; she holds a heart above her head… a River Goddess?
Kevin and I spent some special time there in nature – pottering about the river and woods. I even found a lichened rock to scribble on :)