When I went on holiday to Hvar back in September, I took few drawing materials with me, just a small sketchbook and my Art Pen. I made a few drawings and I'm wondering where they will take me: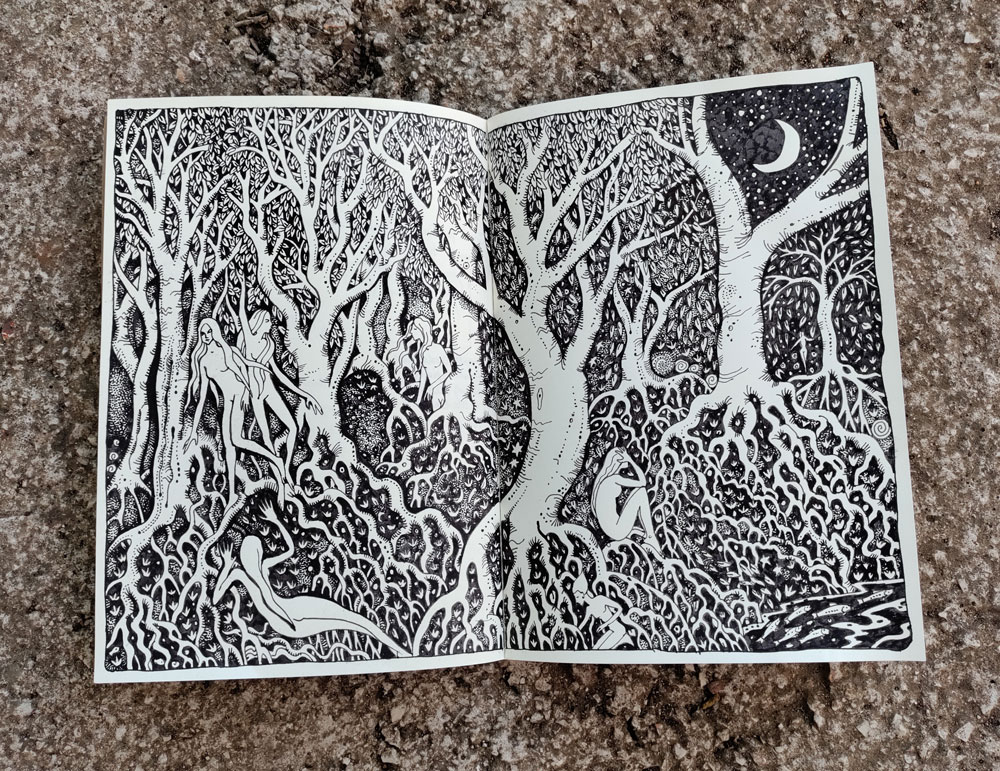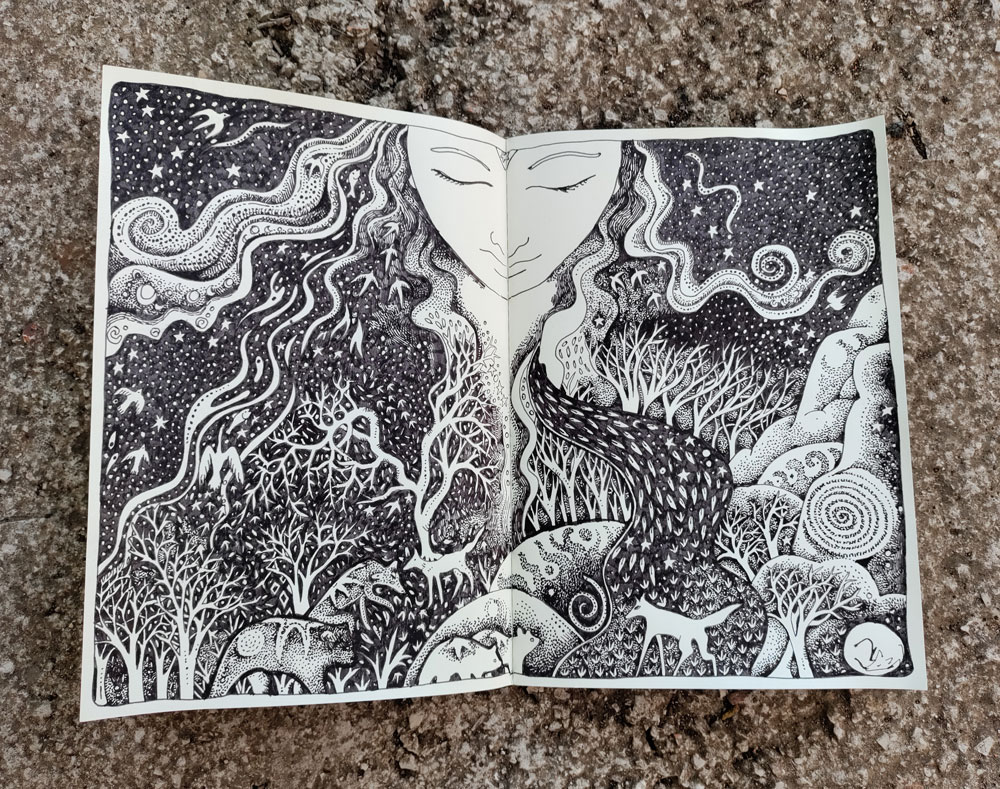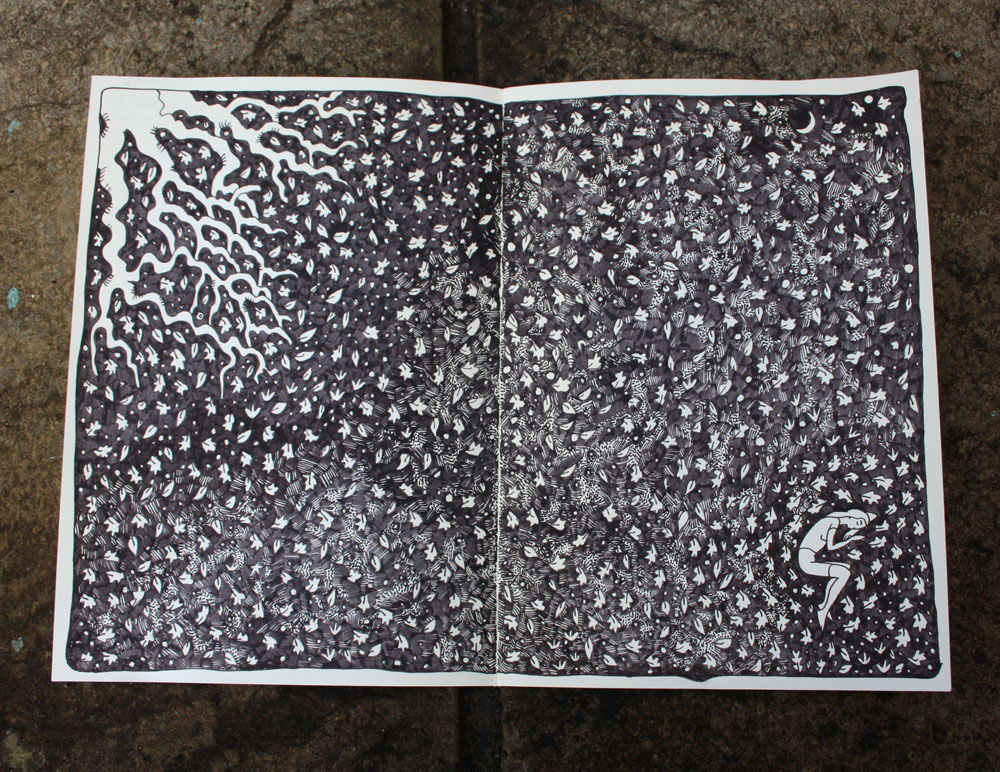 i'm thinking of creating a new booklet/zine that includes some of these images and more to be drawn. I want to journey into a dreamscape of mythical figures – nymphs, women of the woods, mystical beings – as I have been inspired by goddess myths in the past. I have Ovid's Metamorphosis to dip into and I'm curious about the Ancient Greek mystery cults like the Eleusinian Mysteries. I'm also interested in exploring folktales and stories once again, perhaps creating one of my own.
I have loved the work of the artist Flora McLachlan for quite a while, her etchings, collagraphs and, more recently, her paintings. Some of her work reminds me of one of my favourite artists, Samuel Palmer – there's often a crescent moon or moonlit shadows. I like the darkness, the dream-like quality and looseness of her style. So much about her work evokes night in all it's ambiguity.
In her more recent paintings, I like her figures in the landscape – she becomes the figures in her paintings – or rather, her figures become representations of herself; she embeds herself in the lush landscape of her home country, Wales. To use her words:
"From the time when the undergrowth reached over my head, I have been fascinated yet at home in this weedy, sappy place, this path-frill, this edge-land. Among the stems are striped snails and jewelled insects, sharp shadows and sharp, green smells. Now I am only waist-deep in this greenness, I am half human half wild, a weedy mermaid; it's a place of transformation, shape-shifting and wild imagination. I can enter this magical world at will, loop myself with goosegrass and move empowered through the dew of every morning."
(Taken from the catelogue of Spellbound exhibition at the Sarah Wiseman Gallery.)
Perhaps my figures in the landscape are versions of myself, i'm not sure. What I have done is try to lose myself in the leafy greenness of my home place through movement, to feel at one with it. I have gestured and dialogued with birdsong. Here is a short video I made back in April:
I wondered about how I might see myself in the landscape. Where do I feel most at home? In what landscape do I belong? In the woods? It is not here in the rigid walls of the city. Or is it? When I lean out with feelers to connect with nature I confront walls and pavements, tarmac and SUVs.
Back to artwork. If you'd like to check out Flora McLachlan's work, she has some etchings and/or paintings in the Mythical Landscapes exhibition at the Twenty-Twenty Gallery or see her website. I've also watched some very interesting Youtube videos with her talking about her process, including this one.
Some of the drawings I've made since returning from holiday include three pen and ink pictures, Night Vigil, Goddess of the Harvest and If You Are Lost. I might include one of them in my new nature/myth booklet, but in the meantime they've been sent off to Obsidian Art for their Once Upon a Time exhibition: