Sifting through my blog images my attention was caught by my swan illustration created for the inside of a bottle that was tossed into the Atlantic last year. I haven't heard from anyone who may have found it – yet. Anyway, I thought about the swan image and decided to redraw the picture without the words and experiment with it in photoshop, overlaying it with a photograph of a misty sunset over the River Adur.
Here is the result: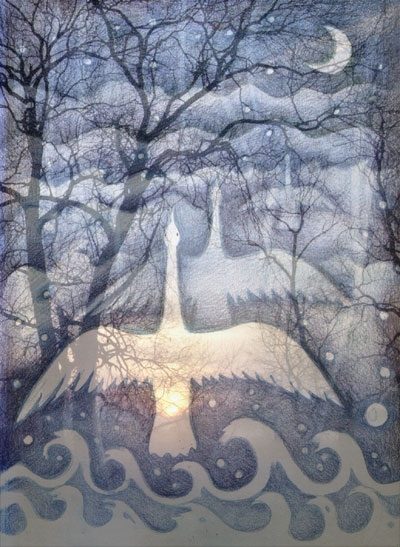 My thoughts turn to why I drew swans flying at night in the first place. I recall that they migrate at night, navigating by the stars. Am I right? Are they migrating now?
A quick check confirms that some swans migrate. They fly by day and by night and when they fly by night, they learn to navigate by the stars. Mute swans were sacred to the Greek God, Apollo, as the bird was known as a symbol of light.
I am also reminded of the lovely Celtic myth of Aengus, the God of Dreams, who falls in love with a girl he sees in a dream. After much searching the girl is found and she is called Caer. Each alternate year Caer becomes a swan. Aengus can only claim her if he can identify her amongst a hundred swans which is what he does. But to join her, he too transforms himself into a swan. They then fly away together singing such beautiful music that all who hear them succumb to a deep sleep.