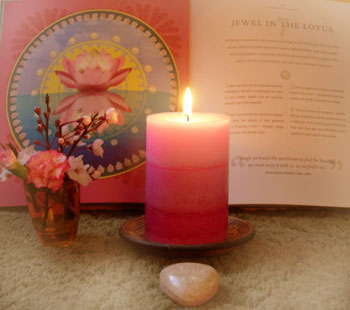 I have a yearning for beauty, a yearning for Spring and finally it's arrived. Sunshine, birdsong, cherry blossom in the park – it's beautiful and I want to soak it up! And I want to move, dance somewhere beautiful in nature too.
I love the beautiful dance prayer for Japan by Lee Atwell. Inspired by Butoh, Lee dances to celebrate our connection with the Earth and has recorded her beautiful and inspirational dances since 2009, The 50th anniversary of Butoh, on her blog.
Inspired by Lee's dances, I went to the Stanmer Park estate to find a quiet space in which to move in nature. I discovered an apple orchard that I didn't know about tucked away near the church. I like orchards, there is something magical about them. There are ghost memories in the moss, the lichen, the contorted branches and earthy dampness; …lovers meeting in secret, children steeling in to play beneath the blossom or to scrump, …a quiet pause in time, a moment captured forever. There's a hint of something forbidden too – perhaps I was trespassing! Apple trees are steeped in folklore and symbolism.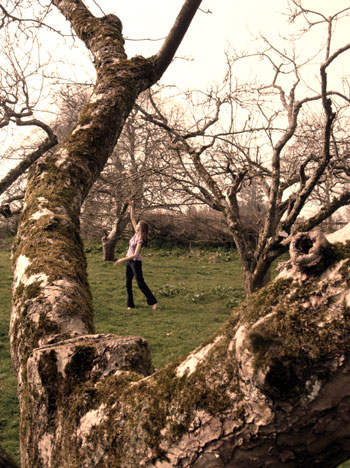 I felt awkward at first but soon allowed myself to simply move naturally feeling a mixture of joy and sadness. With Spring here I feel like celebrating but there has been some sad news for my partner Kevin. I danced both this joy and grief in the orchard amongst the knarled and lichened Bramleys and Cox's Pippins all awaiting to flourish their first leaves and blossoms.
Feeling grass beneath my feet – a tingling sting of young nettle, a dampness of moss. I moved to a light mosaic of birdsong and the silent conversation of trees.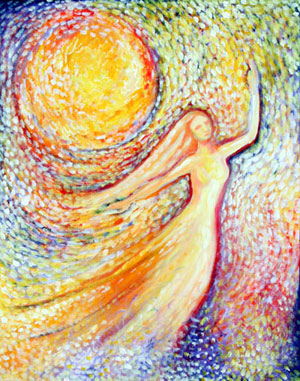 I am including this painting, Spring Dancing Woman, that was painted around New Year. Its definitely about Spring. It has a dotty technique, unlike some of my other dancing women paintings. I like the colours but I'm not sure about the technique!
Enjoy the sunshine while it lasts!
"Though we travel the world over to find the beautiful, we must carry it with us, or we find it not.". Ralph Waldo Emerson