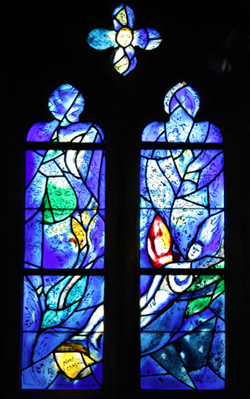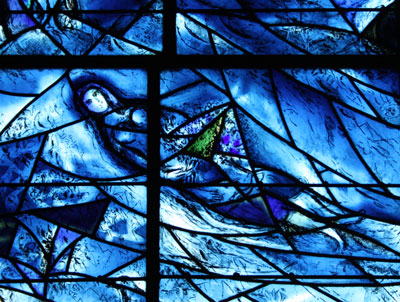 At last I have managed to visit Chagall's beautiful stained glass windows at All Saints church, Tudeley near Tonbridge in Kent. They have been a source of inspiration to me for past projects and I can see that they will be in future as well.
We drove through many old villages, houses with crooked chimneys and blackened beams, and through woods bright with autumn yellow. Yellow is definitely a colour I'm noticing right now in nature, paintings and other things but it was the blues of the windows that I was keen to see. They didn't disappoint.
All Saints, Tudeley is the only church in the world to have all its twelve windows decorated by the Russian artist Marc Chagall. According to Chagall the windows were inspired by Psalm 8; despite being jewish, Chagall found the Bible captivating. I wondered why such a small, simple church in an otherwise ordinary area was favoured with the work of so great an artist, so I looked up the story behind the creation of the windows.
The windows are a memorial tribute to Sarah D'Avigdor-Goldsmid, a 21 year old woman who died in a sailing accident in 1963 near the town of Rye in Sussex. She was the daughter of Sir Henry and Lady D'Avigdor-Goldsmid who lived nearby. Apparently Sarah had been enchanted by Chagall's designs for the Hadassah windows, exhibited in Paris sometime before the accident. This led her parents to ask Chagall if he'd be willing to create the east window in her memory. Chagall was very happy to, and ended up creating all twelve windows.
In the magnificant east window Sarah lies adrift in the arms of the blue sea, a peaceful figure, while a few figures watch or mourn and Christ on the cross hangs over them all. I love the blue.
"The colours address our vital consciousness directly, because they tell of optimism, hope and delight in life" says Monsignor Klaus Mayer, who uses Chagall's work in mediations and books.
"In our life there is a single color, as on an artist's palette, which provides the meaning of life and art. It is the color of love." Marc Chagall.
The story is very sad but has been made into something beautiful with glass and light. It has sown seeds of inspiration in me for the continuation of the 'Turtle Dreaming' story that I began creating and illustrating earlier this year.