In my last post I said I was happy to be at home right now. That's not exactly true. I spend a lot of time day dreaming about how I'd like to be elsewhere – often overseas, which is quite difficult right now with Covid and the climate crisis making one think twice about flying. I think about how much I would love to be in a rainforest and how much I would have loved to have been a tropical ecologist working in a rainforest, familiar with the birds, mammals, insects etc. That was my dream, or one of them. Still, it didn't turn out that way. Now I draw forests, trees and rainforests instead, and I've just created a Rainforest Concertina card.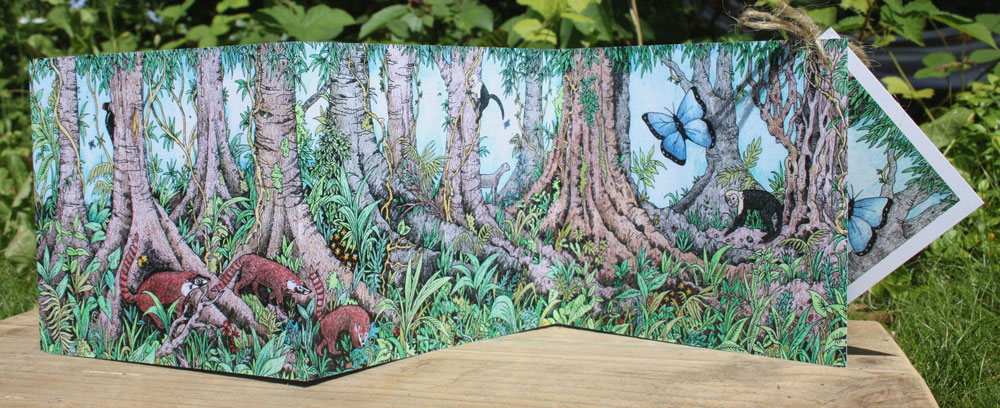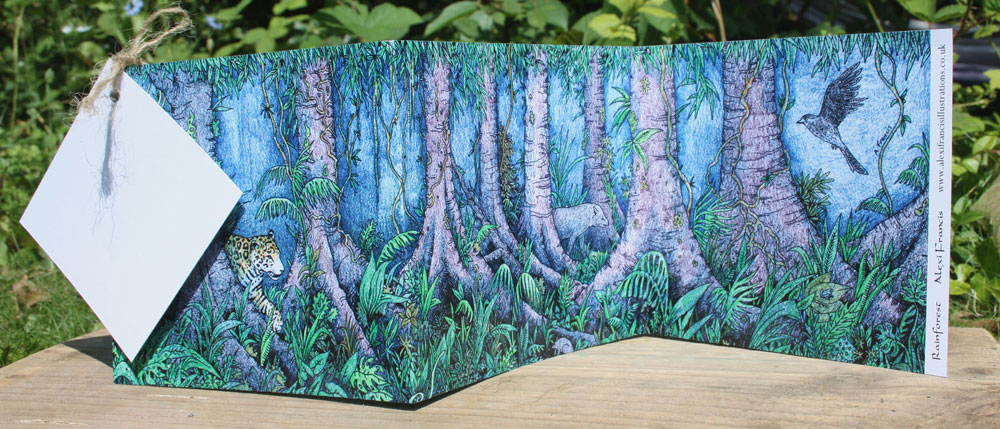 The card shows a scene from a Central or South American rainforest (such as those in Costa Rica or Ecuador). One side is a day scene featuring coatimundis, snakes, monkeys, butterflies and, of course, trees. The other side shows a night scene featuring a jaguar, an oil bird, frogs, small mammals and a tapir. I haven't seen a jaguar or tapir or even an oil bird, but I have seen coatimundis, capuchin monkeys and morpho butterflies when I was fortunate enough to visit rainforests in Costa Rica, Guatemala and Ecuador.
I don't anticipate these cards will be as popular as the others, as not everyone has a passion for rainforest like me. Anyway, I wanted to make one. Rainforest concertina cards are available in my Etsy shop and soon my website shop.
Here is a little glimpse of a young caiman I saw on my trip to Ecuador quite a few years ago: