Hummingbird has entered my life. I'm not quite sure what I think of Spirit Animals, Animal Totems, Western Shamanism, I try and keep an open mind about it all and find myself drawn to it sometimes.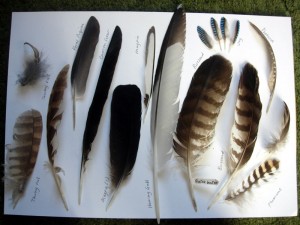 I'm always interested in animals and wildlife, although this rarely creeps into this blog. A jackdaw has taken to frequenting the scaffolding outside my bedroom window; we were curious about each other. Sometimes it feels as though nature/wildlife has a message and that I should listen. I've found myself collecting feathers from woodland paths and even the street. Recently I found a buzzard feather and now I actively search for them – owl, jay, woodpecker – any feather of any bird. Summer may be the best time to find feathers when birds are moulting, but now is OK as well. Feathers give me a tangible link to the natural world; I even had a dream about one. I'm being drawn to birds, to the sky, to flight and freedom.
So often I've thought (symbolically) that my "wings" are torn and broken and however much I wish to "take off", I can't. It is a sort of freedom I seek, but something has always held me back or down.
My first experience of hummingbirds was in a garden in Mexico. The bird came quietly like an apparition to visit some red blooms – probably hibiscus flowers. It seemed as though it was an uncanny link with an "Otherworld" at the time, as though this was a special, silent messenger. I'll never forget the memory.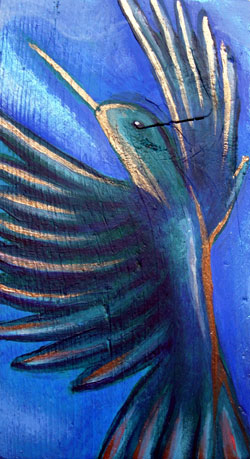 I mentioned another hummingbird encounter in a piece of writing recently published in the magazine Earthlines:
"…After a few minutes I hear a noise, more like a vibration than something audible, coming from my left. It is like feline purring, a soft tinnitus, another sound in this place of voices. A fragment of the forest's heart splinters off and a tiny hummingbird comes into view unlocked from its own chasm of sound, beating within its own silent bubble.
A coil of memory, recalling a poem by D. H. Lawrence, spools out in my mind,
'Before anything had a soul,
While life was a heave of Matter, half inanimate,
This little bit chipped off in brilliance
And went whizzing through the slow, vast, succulent stems.'
The bird hangs needle sharp, chest out, suspended in a brief blur of wings, threading the air. No brilliance here, more like a moth it hovers, patiently in the half light. But, there's something misplaced, unravelled, something lost and found in the single, graceful poise of this tiny bird fluttering like an off key note against some invisible membrane.
I feel privileged to be caught in a moment with this bird. When the Sun seeks the Moon, says Mayan legend, it becomes a hummingbird. I feel like the moon, feel as though the bird has a message from another world just for me. The moment passes and the White Bellied Emerald is gone, disappeared into the gloom."
Now I'm painting hummingbirds. And not just in blues! So much of my painting is in blues and turquoises – that I love – but I've broken the blue spell and want to paint in yellows and maroons and golds and ….
According to various sources, hummingbirds can symbolize many things – energy, joy, perseverance, flexibility, Eternity and Infinity. Apparently hummingbird wings flutter in a figure of eight, the symbol of Infinity. Hummingbirds appear playful and light encouraging enjoyment of life and positivity. I do feel joy, after sometime of shadow, should I trust it I ask myself…