Forests are still my thing, what better than a forest beneath the sea, a kelp forest. The colours, for one, are beautiful – perhaps some of my favourite colours, aquamarine, turquoise, blues. I imagine it to be a world of beings passing through – seals, brittlestars, rockfish, sea urchins, otters – in the arms of kelp – the odd diver, the odd wreck splintering and lost, discarded bits and pieces tossed by muted currents, swaying waters that whisper the secrets of the land beneath the waves. A forest dream of a world.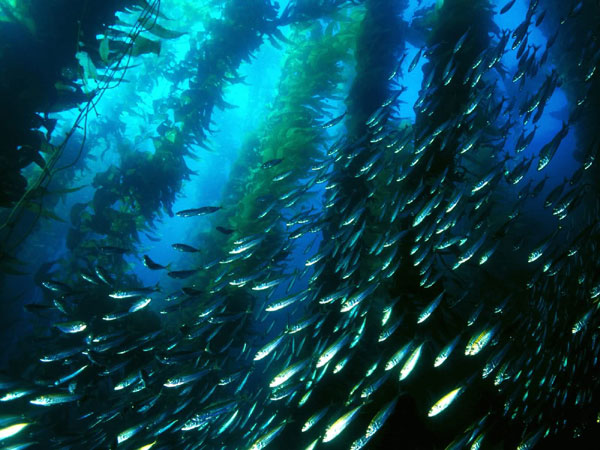 Enter the Kelp Maidens.

I have painted two new long boards on reclaimed wood, the Kelp Maidens. They are varnished with exterior varnish and ready for the outdoors.
I am a little familiar with the Kelpie myths – water spirits that live in lochs and rivers in Scotland, water horses that shapeshift into men or women. My kelp maidens are slightly different, there is no hint of horse, no horse's mane or hooves. But they live in the kelp forests, amongst the fronds of Saccharina and Saccorhiza (and other kelps) in Scottish waters – they are like the names of two sisters :)
While I was painting my kelp maidens, the Guardian published a series of Forest Fable podcasts. All the fables are good, but one of them, The Princess' Forest by Alec Finnay just happened to be about the myth of a submerged forest off the coast of St Kilda where a giant woman was said to reside. It is said that she was addicted to hunting deer in the forests between the islands of Harris and St Kilda before the seas came and flooded the land.
My Kelp Maidens are now in the lovely shop Way Out There and Back in Littlehampton along with some of my other paintings and cards.
My River Sisters painting, that was in the shop, has just gone to a new home. I'm delighted!