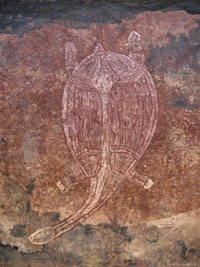 I've been trying to continue with my children's story. I know that I want it to about turtles and a girl named Christine, who lives on a cliff overlooking the sea. I've been thinking a lot about turtles in the last few days and remembered a dream I had last year that involved my sister nurturing a wounded turtle. I looked up turtle symbolism in dreams and here are some examples of meanings I found:
Longevity, patience and persistence, self-protection, hiding, withdrawing and fear of social interaction or showing one's true self.
Turtles convey steadfastness and caution, moving and changing slowly and they have strong protective shells, which may also be symbolic of a defense mechanism or real life protection with which one has surrounded oneself.
Oh well, perhaps my dream meant that I just needed to nurture wounded parts of myself.
Turtles are often depicted in popular culture as easygoing, patient, and wise creatures and are an emblem of longevity and stability in many cultures. In some creation myths the turtle or tortoise carries the world on its back or supports the heavens. In Aboriginal rock art in the ancient turtle totem, the dome-like curved shell symbolizes the sky in relation to the square flat underside, symbolic of the earth. More turtle symbolism can be found here.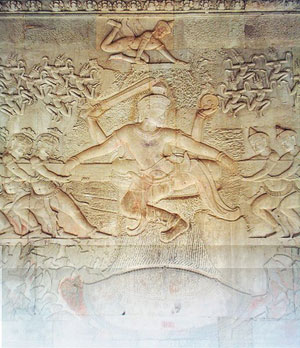 Whilst looking up turtle myth, the story that I found most interesting and evocative was 'The Churning of the Ocean of Milk', a famous episode in a Hindu text, the Puranas. It involved a mountain entwined by a serpent whose head was held by demons and whose tail was pulled by the gods to rotate the mountain and so churn the ocean. All this was done to retrieve the "Nectar of Immortality" from the ocean. However, once the mountain was placed on the ocean, it began to sink, so Vishnu in the form of a turtle Kurma, came to the rescue and supported the mountain on his back. This bas relief is at Angkor Watt in Cambodia. I failed to see it when I was there (to my annoyance now), but I think its beautiful and I especially like the ghostly white turtle form at the bottom.
A few years ago I volunteered with the Sea Turtle Protection Society, Archelon on Crete, patrolling beaches to protect breeding turtles and their eggs. I longed to get just a glimpse of a turtle or turtle track, but unfortunately they arrived the day after I left.
Anyway, with my interest in turtles returned, I wanted to see one somehow.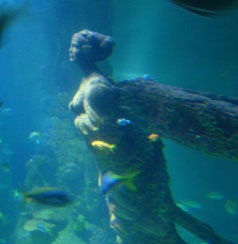 So yesterday I visited the Sealife centre here in Brighton to do some "research" and commune with these creatures even if it was from just behind glass! Here are some photos that will help me with my story: