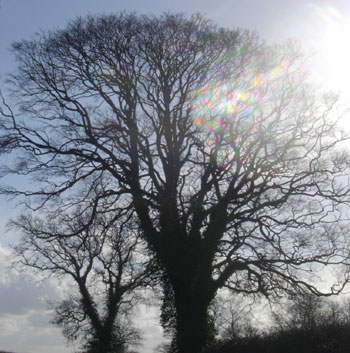 I have been suffering from nature-deficit-disorder. Surrounded each day by concrete, I have badly needed to get away. My chance came last weekend when Kevin and I took off for Norfolk to stay in a tiny little cottage for two called "The Retreat".
Rainy and grey it didn't matter as the low lying landscape had great atmosphere. Solitary trees — including a few stag-headed oaks – naked of their leaves, stood silhouetted against vast skies. And crows, rooks and seagulls milled over ploughed land and created a clamouring parliament in the trees. The fields were wet, soggy under foot and shifting rivers and lines of broken Crack willow gave the landscape a shabby, neglected feel. But it was so good to get away and reconnect a bit with nature.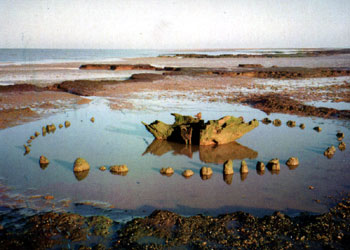 One thing I've been wanting to do for ages is visit Seahenge which was discovered at Holme-next-to-the-Sea on the North Norfolk coast. I didn't know much about it other than it was a circle of 55 wooden posts with a central tree stump exposed in the mud at a lowtide back in 1998. It was a romantic find, but it was removed from its site back then and part of it ended up in a museum at King's Lynn. It was there that we went to find out more about it.
Seahenge has been dated to the early Bronze Age, 2049 BC, a similar age to Stonehenge. The tree stumps – including the central stump – are of oak . It's interesting that the central stump was deliberately placed upside down. (Apparently it was lowered into the ground with rope made of honeysuckle. Honeysuckle rope…. there's something lovely about that.) One theory states that this could have been an altar for placing the dead thereby exposing the body to the elements and wild animals, which would liberate the dead person's spirit, a practice called excarnation. On the other hand, it may have been a shrine to trees instead, perhaps.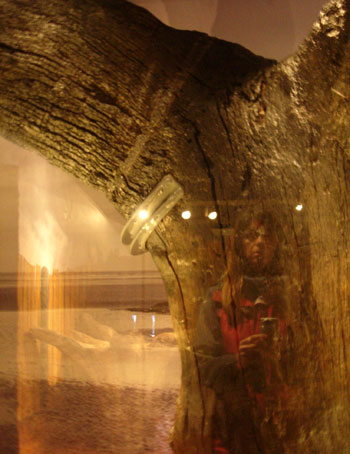 According to Dr Francis Pryor, inverting the oak is like taking a symbol of life and returning the life forces to the earth, the source of life. The release of possibly 'dangerous' energies required containment, hence the circle of stumps. Intriguing, turning life upside down! Certain mythologies like those of the Lapps, have a three part cosmos — a world above, around and below us. An inverted tree would have roots in our world but it would be growing into the underworld. The tree would be seen as drawing different worlds together, a way of communicating between our world and the world below the ground — a paralell world. A world inhabited by the ancestors?
Pondering on the oak stumps in the museum, the deep past, something so old, from so long ago, I caught my reflection in the glass.