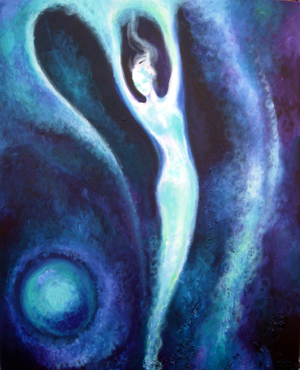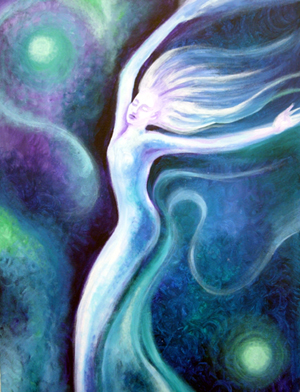 I've been very inspired by certain calendars I've seen at the end of last year. I did wonder whether my artwork – eg Spirits of Nature – was good enough for a calendar, so I've approached one or two publishers. I noticed calendars featuring the words and poems of Rumi during my browsing and I began to take note. Rumi was a 13th century Persian poet whose work has become very popular in recent years, especially in the US (probably mainly in new age circles). I've been searching and reading his poems and find them very appealing, very beautiful, profound.
Daylight, full of dancing particles
And the one great turning, our souls
Are dancing with you, without feet, they dance.
Can you see them when I whisper in your ear?
That's a meer snippet, I'm a sucker for anything about dancing. Currently, I'm enjoying "Selected Poems" translated by Coleman Banks.
It seems as though I'm now noticing Rumi everywhere. Whilst googling 'visionary art' I discovered the Iranian artist, Rassouli, whose work I love (see www.rassouli.com). He publishes a Rumi calendar and I'm hoping to get one for next year. He's been inspired by Rumi and another Persian poet, Hafez, who I've yet to read. I've found myself painting in a similar way recently, I don't want to copy, but it's good to be inspired.