I've been playing with photoshop. Finally I'm surrendering to the possibilities of digitally altering my artwork. I've been inspired by artists such as Greg Spalenka and numerous others whose work is everywhere. I have to enter fully the twenty-first century!
It's been fasinating and frustrating learning photoshop – bit by bit. I've also been dwelling on the sea, on watery things. From angels I'm now into mermaids,… fish …..anything oceanic in fact.
Below is a version of a simple mermaid picture, a photoshop experiment. I'm also including a piece of writing I discovered written up on a church wall in some back street of Barcelona. The author is unknown.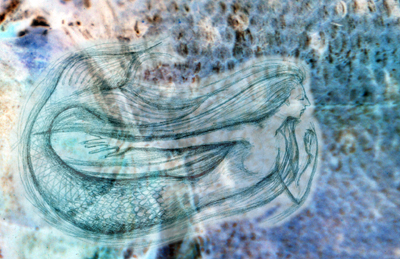 What were the thoughts of those who lived and slept in the vastness beneath the water.
Were these thieves and broken poets, these fugitives affected by some stigma;
Were they jealous or afraid of the world? How had they all gathered in this crepuscular
region?
What had they so much in common that they needed each other's presence?
Nothing but hope. Hope. Hope like a pale sun……
These words were faint on the church wall, but beneath them was a list of names I could just make out. 'Mervyn Peake' was written amongst them; he wrote the Gormenghast trilogy which just happens to be amongst my favourite books.