Back in March I took two painted boards to Herstmonceux Castle for Waterweek as I had been invited to contribute some creation. When I took them in on the second evening, one of the artist organisers looked as though to say what on earth have you brought us! I left hurriedly without attending the evening talks, embarassed as I am about these things and made off into the night across the misty Pevensey Levels. I had dared to show something, I had taken the risk! I didn't see any of the week's events as I desperately needed to escape the clamour of Brighton and spend the week cosied up beside a roaring woodburner in a shepherd's hut down in Dorset.
When I returned to pick up my boards, we – Kevin and I – were taken up through the castle corridors and shiny-floored halls to a main room by a friendly caretaker who knew all about my boards. And there they were placed up in a bay window which I thought was a lovely prominant position.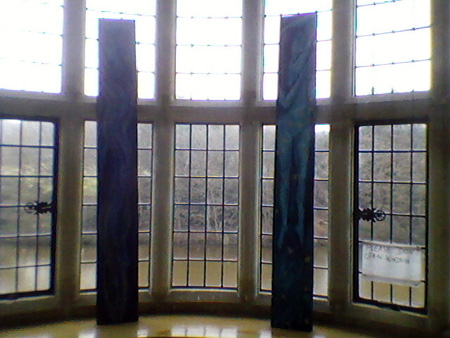 Why I'm writing this is that I've recently had a dream about Herstmonceux Castle. It is perhaps strange that of all the wonderful things that happened that week, all I can write about is my dingy dream. But the castle definitely made an impression on me.
My dream:
I was at Herstmonceux Castle working on my Memory Tree story in a library there. From the windows I could see the fresh green growth of the trees. I was with my mother who was lingering and wasting time when I wanted to go into town with her. I decided to leave her but felt torn. I have many images of her beside a window, sunset without, feeding the birds.
Life is rich on deeper levels. I reach back into a distant past within the walls of the castle of my mind or being. Mystery, intrigue and beauty are words that come to mind and darkness too, which is strange as we are now tipping into Spring and light streams into newly unearthed spaces. I am feeling the desire for life with Spring but also a resistance after Winter.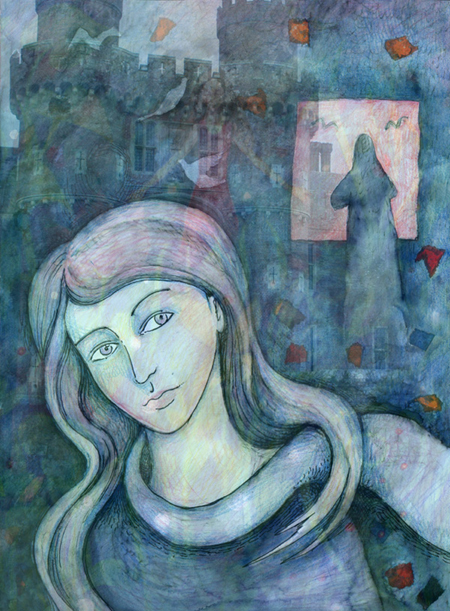 I shall not forget
The open window
You with your gifts of bread and love
leaning out with your familiarity
At one with the birds
They came in numbers
And you named them
Each and every one
Native American names
I thought of your gift with them
Those that came in numbers
To feed in your presense
I shall not forget
And shall stand now
At my open window
Inviting in the birds
And I'll call them by names
Each and every one
To be at one with the birds.