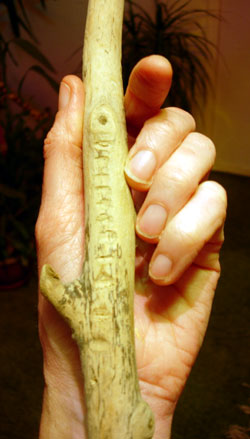 I've just found out about a great "art" project in the South east – Emsworth, Chichester harbour to be precise – that started today, The Boat Project. The project involves creating a 30 ft sailing boat out of bits of wood donated by the public. Each bit of wood has to have a story, so the finished product will be a "boat of stories". Truly a boat of the people.
The project is a collaboration between artists Gregg Whelan and Gary Winters of Lone Twin, acclaimed sailor and boat builder Mark Covell, and international boat designer Simon Rogers. I was very excited to learn about it as I like any wood, boat, sea, art connection.
There's a wood donation day in Brighton on 8th May and I thought I'd make a humble donation in the form of a piece of drift wood that I found when doing turtle monitoring for Archelon in 2004. Each day I made a knotch in the wood to count off the days til I would leave – a bit like Robinson Crusoe! I enjoyed the monitoring but was still keen to get home! Perhaps they'll accept it, perhaps they won't, I'll see in May!