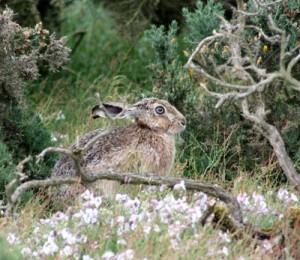 A stay on Havergate Island off the Suffolk Coast in June inspired this piece of creative writing:
"We head south into weak sunshine poured through a washed out sky, up and down banks of pink thrift and close cropped turf. The shingle protests underfoot. Threadbare hares eyeball us from a distance. An old drum, a reel of wire, land scooped out in dips, mounds and barren mudflats. As we approach the gull colony, lesser black backed and herring gulls greet us with a crescendo of raucous cries. Walking into the colony gulls lift up, a clamour of screeches and cries. 'Yarh yarh yarh' and the sky is littered grey with birds of all sizes, motes of soot or litter in the wind. I hear the occasional peep of an oystercatcher, then a deeper more gutteral cry as, amongst the whirl overhead, a great black backed gull is mobbed by his smaller cousins.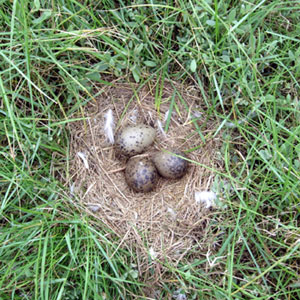 I look down to see a confusion of loose nests, speckled green eggs and huddles of downy chicks, dotted mud-grey and well camoflaged against the grass and splattered ground. I feel a well of excitment seeing nests with eggs and stoop to pick up a broken eggshell embroidered on the inside with a trellis of red veins. I hurry to catch up with Anthony who is fast tracking it through the haze of gulls. They swoop in big arches, their cries deafening. I think I know when they are going to attack as from a distance they fix their gaze intently and then shape to dive bomb. Anthony braces against the attacks and then I receive a vicious kick on the back of my head. I feel the sharpness of feet and beak and know that blood has been drawn. I put up my hood just as a missile of guano splatters my sleeve with chalk white smears.
Through more waves of thrift we reach the hide, out of the wind and into the smell of damp wood and dust. Inside, safe from the birds, I recall fragments of a dream and sit gazing blankly at the mudflats while Anthony latches open a window and sets up the telescope. I am in an alien land wearing a pink gingham dress the colour of pink thrift. The dress is one I wore when I was twelve. I mingle with a group of people I am trying to please but feel awkward and distant from them. I remember the feeling of being caught between people and a wild, other self of tree climbing, birds' nests and wanderings alone over the Downs. The dream and memories are rosy with sunset light, the same as last night at sundown over the mudflats and thrift. Pink thrift stirs pink memories.
Later that day we move heavy sheets of plastic guttering into the garage where the barn owl is supposed to live in a boarded up corner. Weary but relieved that the task is done, I notice a couple of soggy owl pellets near the garage entrance, the round, dark remains of a barn owl meal. We prise them apart and find fine vole bones. There are no signs of life in the garage. Then I discover a barn owl behind the cabins, a hollow eyed carcass leached of life, soggy feathers fanned out white against the black bins. I am reminded of how harsh it is here.
Anthony finds a rat skull in the gloom near the decaying remains of a hare and I discover the bleached jawbone of a seabird, slender and springy as a wish bone. On returning to my cabin, I secrete it safely away with my eggshell inside an empty egg-box."