The "goddess" theme has returned again. I've been working on a "Blue Goddess" which is painted in acrylics on a piece of wood. I visited the Brighton & Hove Wood Recycling Project hoping to find a good piece of driftwood. I liked the idea of the wood having 'come from the sea', it makes me think of shipwrecks, figureheads etc. I really enjoyed rummaging through their wood collection and found a suitable driftwood piece, but it was a bit expensive for my initial experiment. I finally decided on a cheap piece of scaffolding board, liking the fact that it was cracked and had knots. Back home I sanded this down ready to paint.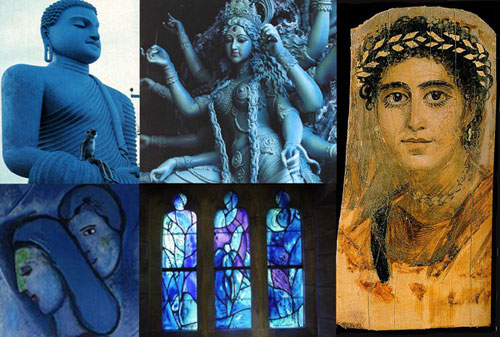 I kept having an image in my mind of a face that I can only trace to Chagall's paintings or rather, the women in his paintings. I've been inspired by other things too: Fayum Mummy portraits — because they're ancient and painted on wood panels; icons; blue buddhas; blue 'durgas' and lots of other blue things. The wooden statue featured in the book "The Secret Life of Bees" by Sue Monk Kidd also came to mind, as it was bestowed with sanctity.
My Blue Goddess is not yet complete. I want to inscribe it at the bottom with the words "Blue Goddess" written in Amharic. I have no real reason for choosing Amharic other than I like the script and Ethiopian religious art. I'm hoping to hear back from someone with a written translation. If you can help with it let me know!
This is what it looks like so far – with a manipulated digital version on the right!