I'm very into natural sound recordings and came across Be:One last year. It was created to accompany The Hive installation. The Hive was an installation by artist Wolfgang Buttress at Kew Gardens last year.
"An open-air structure standing at 17 metres tall and weighing in at 40 tonnes, The Hive encapsulates the story of the honey bee and the important role of pollination in feeding the planet, through an immersive sound and visual experience."
Here's a video about the soundscape:
There's something hypnotic about the bees' droning.
The soundtrack is available from Caught By the River's record label, Rivertones.
In the Ancient Greek world bees were worshipped as they represented a link between our world and the underworld. There were special priestesses refered to as "bees" or "Melissas", the Greek word for honey bee. In Ancient Greek myth Melissa was a nymph who nursed the baby Zeus, feeding him honey instead of milk. It was from her that the cultivation of bees for honey was supposed to have come.
I've worked on a Bee Goddess illustration with this ancient bee nymph in mind. I've now made it into a card available in my Folksy and Etsy shops.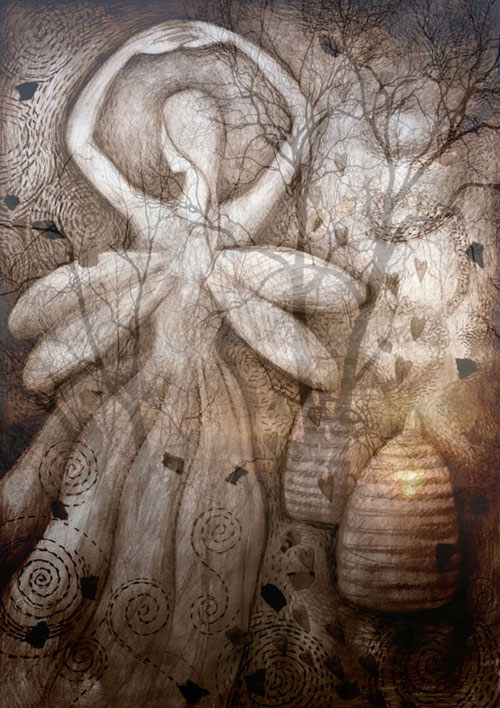 Since February I've been noticing many large bumbee bees while out walking. They're queen bees seeking nesting sites. I came across a carder bee nest one summer which I was a little wary of but it was also quite charming like any nest!