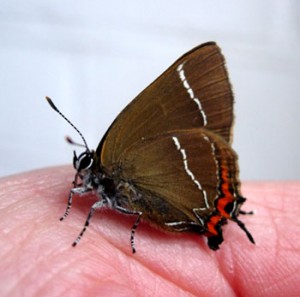 Butterflies continue to be a theme in my life. I couldn't resist writing about a butterfly that I nearly trod on on my way to the allotment. Here it is, a White Letter Hairstreak that was sitting cryptically on the pavement, the first one of this species I've seen.
I knew they were flying around the elm trees around now – and we have plenty of elms in Brighton. The larvae live on their leaves.
I picked the butterfly up and put it on an elm leaf. It then flew off. I was meant to find it as on my return journey, there it was again! Or another one. So I picked it up and carried it home to take these photos. You can see the white 'W' on its hindwing quite clearly. I put it again on an elm tree leaf for shelter. No doubt it'll fly off and find some privet blossom or bramble flowers and return to the elms to mate and/or lay eggs.