In my previous post about my latest altered book, I mentioned that one of the pages – the fox page – reminded me of the Millefleur(s) art style. Millefleurs means "thousand flowers" in French and was a style using many flowers in the background of European tapestries between 1480 and 1520. The style was brought back into fashion by William Morris and his company Morris & Co.
I looked again at tapestries and particularly like Tapestry: Greenery designed by John Henry Dearle for Morris & Co. It hangs in the Museum of Fine Arts in Boston, US and features deer, rabbits and a fox beneath chestnut, oak and pear trees: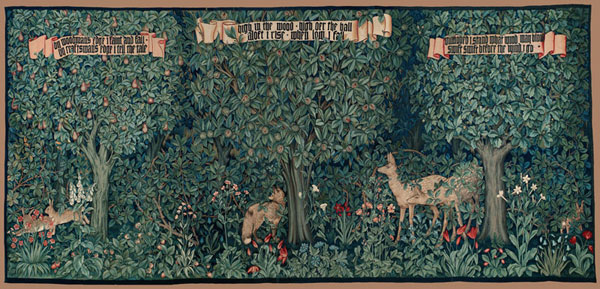 I love botanical detail in tapestries and paintings, especially with my recent rekindled interest in plants. i like the way individual flower species are depicted. I first really took note of millefleur in Botticelli's Primavera in which there are about 190 species of flowering plants depicted and many have symbolic meanings: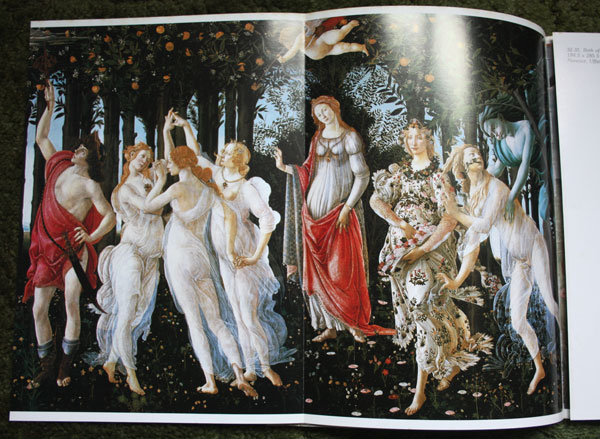 I have decided to write/illustrate another little book that I'm titling The Tapestry Fox inspired by Tapestry Greenery and of course, the foxes that live around my way.
The fox as totem animal is coming back into my life. it is a good luck animal for me. I'll follow it wherever it takes me. I've worked on a few ideas for the book: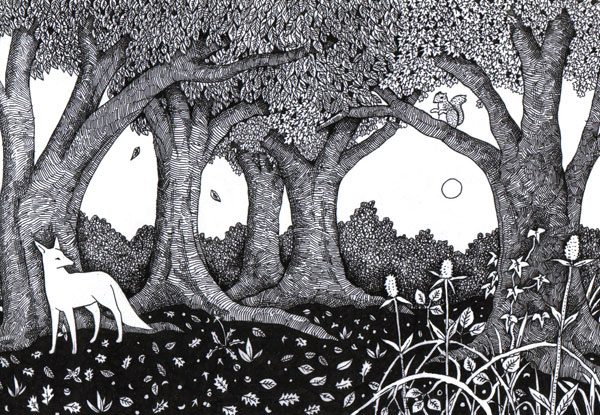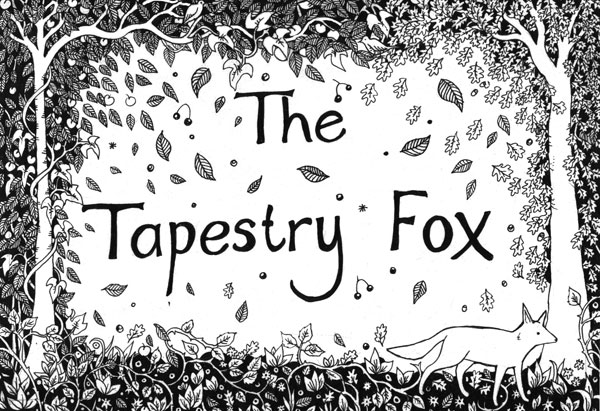 In the first picture above I've added teasel, bramble, oak and hornbeam – I try and add plants that can be identified. i haven't managed the sinewy trunks of hornbeam. I particularly like adding bramble (of the rose family there are over 300 species in the UK and deer love it so you can often tell if a deer has passed by the bitten ends of new bramble shoots. Bramble was used for fencing where barned wire is used now and then there are blackberries! A great plant!)
While on the fox trail, I've been experimenting with the idea of millefleur and foxes at the woodland edge in a larger, A3 picture. I've called it Millefeuilles Fox – Thousand Leaves Fox: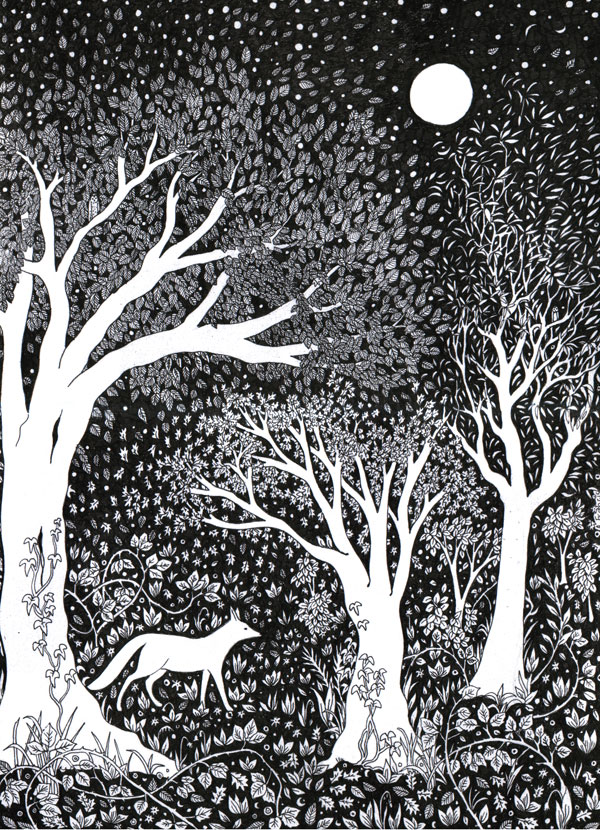 In the picture stars are sprinkled among the leaves and plants so the sky becomes the land and the land sky. I like to think it might be an allegory of some sort with a hidden meaning :)
I'm looking forward to visiting the woodland edges, making sketches, taking photos and gathering a few plant specimens. With spring comes primrose, white dead nettle, yellow archangel, lords and ladies, stitchwort, herb robert, red campion, nettles….