It's been a long time since I wrote anything so I thought I'd start the year with the resolution of writing more. Last year was a difficult year despite my doing some interesting things; I just couldn't engage with it all, perhaps there was too much happening or the timings of things was all wrong. Anyway, this year has begun OK, quietly and with the snow which, I surprise myself by saying, I'm enjoying.
I launched into printing and selling cards last year and that keeps ticking over. I did another design in the "Spirits of Nature" series, which I'm calling "Holly Man". It's a Winter/Christmas version of the Green Man and I've just used it for my website home page so far, but I'll consider having it made into a card for next year.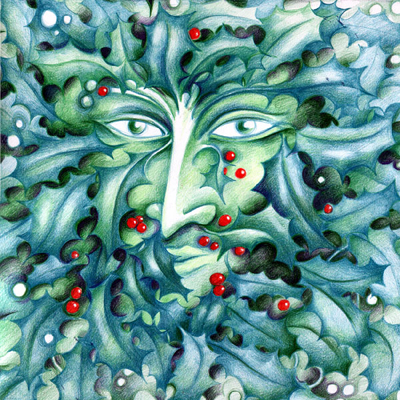 I'm now keen to get back into doing some art. I stumbled on a whole series of blogs that I find really inspiring, namely 'Contemplating the Moon' and 'Beyond Words'. Both women bloggers make visual books and diaries and this is something that I really want to develop. I'm a diary writer and have been since the age of thirteen but it's been mainly words with just a few pictures and photographs. Now I want to add more art to my books which can mean experimenting with mixed media, painting, collage and even encaustics. The latter is an ancient technique involving painting with beeswax often pigmented with colour. Bridgette Guerzon Mills' blog has been a great source of inspiration for this.
So this new year I'll take quietly. I'll experiment and be braver about writing even when things aren't going my way. Watch this space and have a Happy New Year.