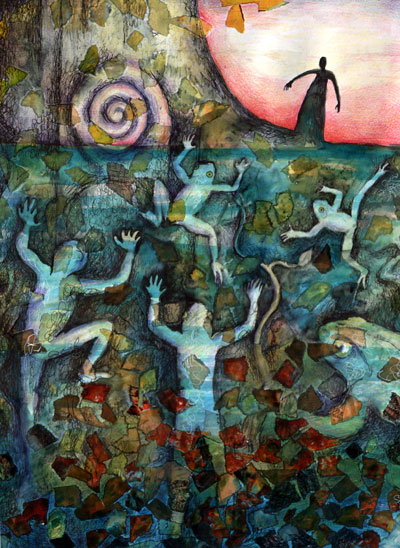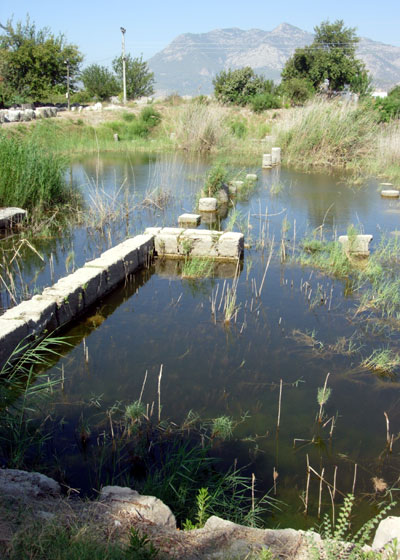 I've been illustrating more myths, inspired this time by ruins I visited when on holiday back in September.
The ruins of Letoon are near Patara in the Lycian region of Turkey. I've been meaning to write about the ruins for sometime as I really like the mythology associated with them. This is the story:
Letoon was the holy sanctuary of the goddess Leto and her two children, Apollo and Artemis. In Greek mythology, Leto was the lover of Zeus, who abandoned her and left her to wander, pregnant, in search of a secure home. She was thirsty and came to a Spring at nearby Xanthus but as she tried to take a drink some shepherds chased her away. In revenge, the goddess turned them into frogs.
The ruins chime with the story. They are partially submerged with pools that teem with frogs, dragonflies, terrapins and pond weed. When I wandered close to the edge the water became alive with movement. There is something romantic about the place with its temples, inscriptions, water and wildlife. And the frogs are a reminder of Leto's myth.
I'm still intrigued by the 'underwater world'. My illustration is somewhat dark and I hesitated over whether to post it, but thought I'd just go ahead anyway. It features Leto, frogs and 'frogmen'. My 'shepherds-turned-into-frogs' are somewhat comic, I couldn't help thinking of them in terms of cartoon alien creatures in jumper suits! But, apart from that, the imagery I have done reminds me of the ballet, 'Garden of Earthly Delights' that I saw years ago performed by Rambert Dance Company.
I looked into the mythology and symbolism of frogs. In many religions around the world they are important symbols of transformation and fertility. In Egypt they were associated with the goddess of fertility and childbirth. This may have been because of the appearance of many frogs with the flooding of the Nile, considered omens of fruitfulness. In some cultures they symbolise cleansing and healing because of their association with rain and water.
It is interesting to read about frogs as Totem animals by the artist Ravenari. Check out her lovely artwork too.
To me, frogs are symbols of the link between the conscious and unconsious because of their life both in and out of water and their need for water. I shall explore more amphibious creature myths another time. But here is a link to a poem, "Ode to Drowning" by Tishani Doshi that I think is very beautiful.