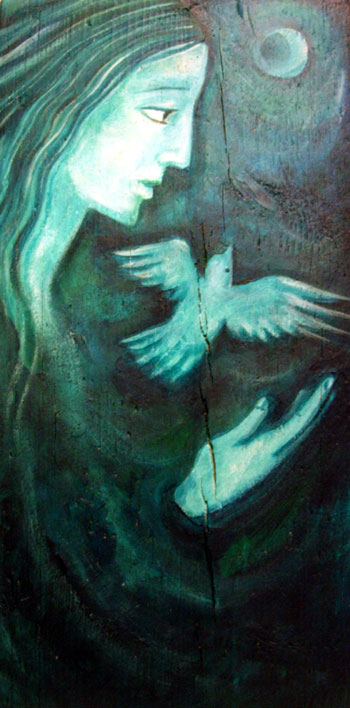 A quiet end to the year, a year of reflecting, writing and blogging. I stood on the balcony when the pips struck twelve and watched as hundreds of orange lanterns took to the skies. One floated quite close by from the garden next door to join the magical scene. And then fireworks on the horizon bursting forth above the silhouettes of roofs and chimneys. It was so mild compared to the recent snowy spell; I was just in a light long sleeved top.
The New Year has started well. We saw friends who took home some of my recent paintings and were curious about some of my early stuff. It was fun bringing out from storage, a large red painting that I haven't seen or thought about for years. My last few paintings have been light or of vibrant colours but now I seem to want dark paint….and stories. Perhaps illustrative paintings. I want to continue with my Turtle Dreaming story and it would be good to finish it this year. The "Dreamcatcher Woman" in my last post was the start of painting on wood once again. It's not a good painting but I like the depth and darkness, the hint of ocean about it. The song just came into my mind while I was scanning in the photo. Here is the next piece, "Woman, Moon, Bird" also on sanded scaffolding board.
I shall put up the end of year paintings soon if I can finally finish them. Meanwhile, wishing much happiness for the New Year ahead.