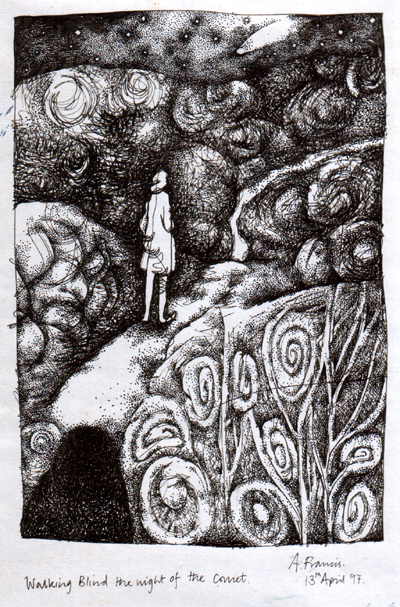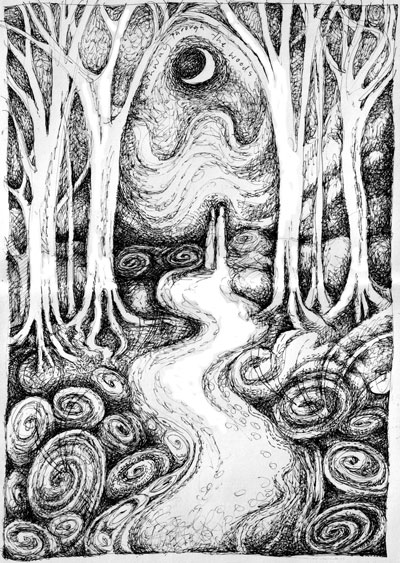 This morning I thought about a pen and ink drawing I did years ago titled "Walking Blind the Night of the Comet". It's dated 14th April 1997 so the comet must have been Hale Bopp, the Great Comet of 1997. I'd been invited by a friend to go to Devil's Dyke in the South downs to take photos at night. Fortunately the night was clear and we had good views. I have a photo of the comet somewhere as a faint smudge of light, but here is the drawing I did a few days later.
I've looked a lot at the work of Samuel Palmer one of my favourite artists. I love his sepia, moonlit scenes; like him I have put the moon in many pictures. I feel drawn to black and white drawings and photos, and enjoyed looking at the small sketchbooks of Julien Bell in a current exhibition at Brighton Museum and Art Gallery called Dreams of Here. The exhibition also features works by Tom Hammick and Andrzej Jackowski. I was interested in seeing Tom's work as the flier read that he "uses landscape as his starting point, but a landscape shaped by memories and dreams". I'm becoming increasingly drawn to landscapes both inner and outer and how they feature in art and literature. Tom Hammick's work did not disappoint and I appreciated his dark scenes of trees, figures and obscure imagery as well as his vivid colours.
Feeling inspired by my old drawing, Samuel Palmer and the exhibition, I decided to visit some local woods in Brighton and look at trees and paths. I like paths. Paths are worn with stories. I took photos but my creative result is a pen and ink sketch from my imagination featuring a crescent moon once again! I've named it "Pathway Through the Wood". The spindly trunks and coils of bramble stand out at the moment, late winter, hence the swirls in the foreground.