I've been riding a sinuous wave, up and down and then thrown about in some crazy whirlpool. Then quiet, life shifting below the cool surface of things. Blue butterflies again. And blue dragonflies; not so many this year it seems. Drawing a sort of butterfly mandala — a night sky of wings and stars.
Mary Oliver's words seem so apt: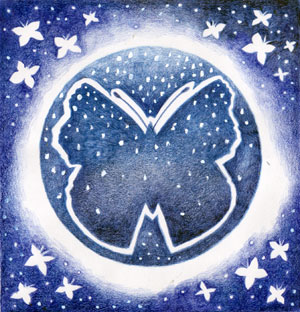 "..to have wings
blue ones — ribbons of flame.
How I would like to open
them, and rise
from the black rainwater."
Sultan Valad's words too:
"…Sufferings are wings for the
bird of the soul
A bird without wings cannot take flight
So weep and groan and lament my friend
So you can free yourself
from this prison
And fly to that placeless
place …"
I've had such a need to feel free.
I thought,
What am I not doing? I paint, draw, spend plenty of time in the sunshine and out in nature. One thing I'm not doing is moving.
I went to the woods, with Kevin with a camera, to find a space to move, dance and be free!
I found a spot amongst sycamores and dog's mercury, sharing sunshine with hoverflies holding their own in shafts of light.
It felt good to be moving. Here is my spontaneous dance in the woods. Perhaps I should have called this post "Bimbling about in the woods" :)