I've turned once again to my altered book. I was listening to the duet Panis Angelicus by Cesar Franck, which is one of my favourite pieces of music. It was one of my mother's too. I remember her when I listen to it and it means "Bread of Angels" in latin.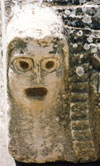 I kept thinking of flying swans so I decided to give my book wings. They looked like stone angel's wings before their wash of blue, so I found some photos of angel statues I took a while ago in a cemetery and a haunting, "gasping"-faced statue I took at Ephesus in Turkey which I particularly like. I printed out copies and stuck them in along with some latin lyric scraps of Panis Angelicus. I tore up a page of notes that I'd made for my "about me" page (that I'll put up soon) and stuck the pieces on to the wings. I intend to do more with shreddings, scribblings, fragments, messages and murmurings in other projects.
Here is my stone angel swan carrying the night on its back.