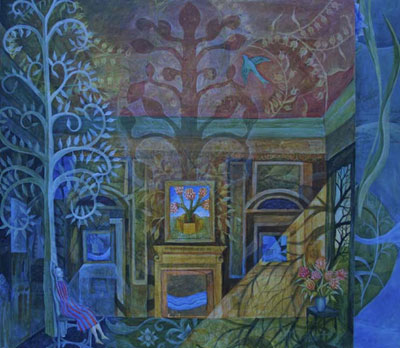 I stumbled on the work of my next inspiring artist while doing a search online that took me to 'Wild Apples' magazine. I really wanted to know who'd done the cover for the Fall 2008 edition and one of the pictures inside. I delved a bit deeper and found out that the artist was Julia Zanes. It's always good to discover an artist whose work is new and exciting to me.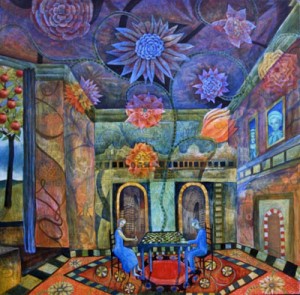 Julia Zanes' work is blue-tinged; her paintings have an underwater, dream-like quality. I love the detail, the whitish, ghostly overlayering of imagery, the poised figures. We're given a snapshot of life, a scene within a story that makes us wonder what has happened a moment before and what is about to happen. The paintings wait, layered with stories, flourishing with underwater life that's broken by something – the observer(?) – like the bird flying in through the window. And they're blue, as wonderfully blue as a memory.
Another inspiring artist is Irene Hardwicke Olivieri. Her work is surreal and like me, she paints, sometimes, on wood – panels and doors. I love her intricate and beautiful scenes peopled by figures – little or large and often women; insects, other animals and weird, fanciful creatures haunt corners. Some of her paintings depicture figures, half submerged, divided by two worlds one air-breathing, the other sub-aquatic like the conscious, surface existance and the unconscious world of dreams.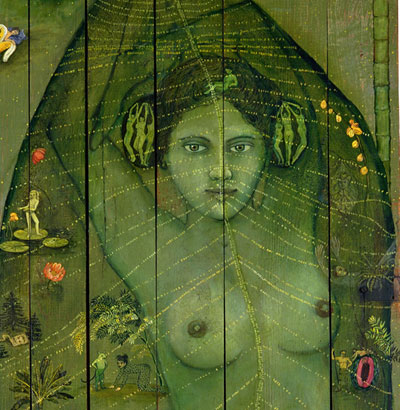 Irene writes personal stories on her paintings. This is something I'd like to do at some stage, but I need to learn to write better with paint! I like her use of natural imagery; her paintings seethe with fertile life. And she paints women often interwoven with this natural imagery. I have a strong liking for paintings with flowers and vegetation such as the in Primavera by Botticelli and 15th and 16th century tapestries.
A recent discovery is Moyo Ogundipe. While researching Mami Wata for my goddess book, I stumbled on a bright painting that I liked instantly: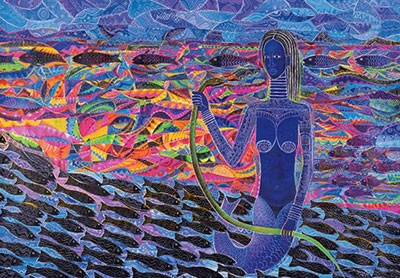 More of his work can be seen here.
Looking at several of his paintings at the same time and the "blue" is very noticeable! I'm drawn to his work because of his colours but also because he paints mythological imagery – water/sea spirits, mermaids, women and wildlife – imagery that features in the stories and beliefs of his native land, Nigeria.
Researching for my goddess book has influenced my recent paintings. More about them in my next post :)