As rivers have meant so much to me recently, I decided to create a River Goddess. I liked the idea of making an offering to the river in the way that the Celts used to sacrifice valued objects, or how in some Hindu festivals a goddess is given to the waters. My idea was to paint a goddess and set her adrift on a local river. For me, it would symbolize returning something to water, the source, and a letting go to launch a new phase in my life.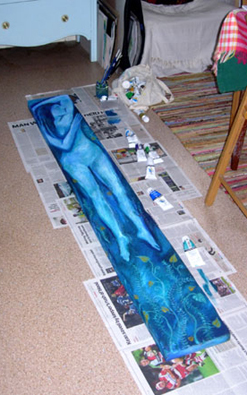 I bought an old length of scaffolding board from the Wood Recycling Store and lugged it home. After sanding it down ready for painting, I decided I needed some reference material for the arms so I lay down and Kevin took my photograph. I was still in my "blue" phase then – which has now passed – so I painted her blue and named her "Moana" which means ocean blue or the sea in Polynesian. I thought she looked a bit polynesian. She wasn't intended for the ocean though, just the river.
After painting my Goddess, I realized that I'd probably been inspired – subconsciously – by a number of paintings and works of art. Here are a few that I think may have been in the back of my mind: Picasso's Les Demoiselles D'Avignon – I may just have just been inspired by Oceanic art as Picasso quite possibly was; Klimt's The Kiss – I like the awkwardness of the figures and how they lie close to the top edge; Edvard Munch's Madonna; Ophelia by John Everett Millais – I like the details of flowers and tried to indicate some water plants on my painting; Ana Mendieta's Silueta earth art has always interested me; a beautiful, haunting photograph from the film Women without Men by Shirin Neshat captures my imagination and an underwater sculpture, Alluvia by Jason De Caires Taylor in the River Stour, Canterbury is something I must go and see. Finally, I love the work of Ahmad Nadalian who has made many ritual offerings to rivers. Below is his Anahita, Goddess of the waters – fertility, healing and wisdom. But there must be others….Gauguin perhaps?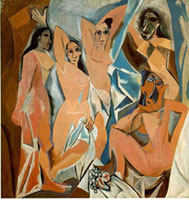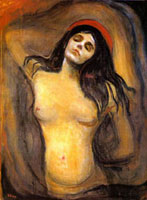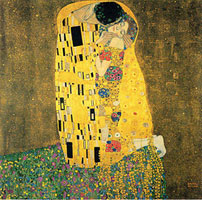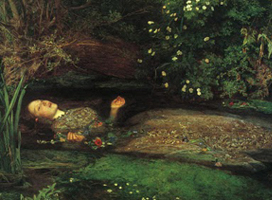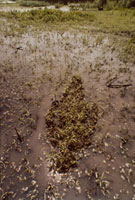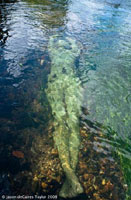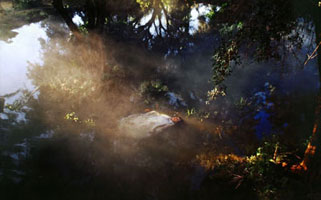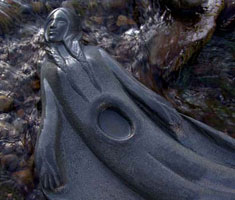 After several trips looking for the appropriate river site, we chose a small section of the River Cuckmere where it was shallow and flowing gently. There I gave her to the water and we watched her slip into the flow like a piece of sky. Kevin took a video while I ran along the bank to bring her out further downstream.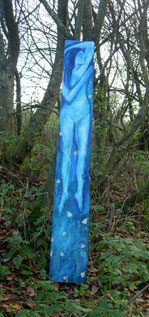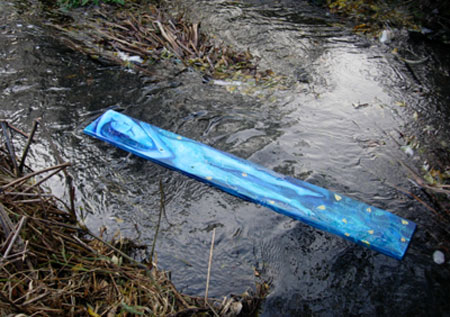 Odd, clumsy, crazy project but fun to do. Moana's now propped up in the kitchen like a totem pole, all 5ft of her. Perhaps I'll find a home for her somewhere, or one day release her forever and see where she ends up!